Extend
Free your team from having to understand and support mobile IT infrastructure so they can focus on their core strengths.
Everything you need, Simpro compatibility guaranteed.
For field-based staff using Simpro, we offer Extend, a fully managed mobile hardware solution. We provide the mobile infrastructure and keep it working so you so you can focus on your business rather than worrying about technology.
Ruggedised smart phones or tablets, accessories and data SIM cards.

No obsolescence; we'll replace hardware that falls behind the needs of the software

Optional calls via Bluetooth headsets eliminate the need for a separate phone.
Your mobile workers supported without distracting your office team.
We ensure that issues are resolved, damaged devices are swapped out, devices are updated and application access is controlled. This means Admin staff and Management aren't distracted by having to support the mobile IT infrastructure; they don't have to develop new skill sets and can keep focus on their core strengths instead.
One-stop telephone support for your mobile workers from 7:30 am.

All IT issues supported on one call, including Simpro Connect and eForms software

Free next working day swap-out of faulty / damaged devices.

Swap-outs already pre-configured for the mobile worker and ready to use.

Mobile Device Management provides remote delivery and update of apps.

Remote device lock, full or selective data wipe, and geotracking of mobile devices.

App access locked to authorised apps only to avoid abuse & malware.

Remote monitoring of devices to fix issues BEFORE they become support problems.

Other applications supported such as trade applications, PDF viewers & sat navs.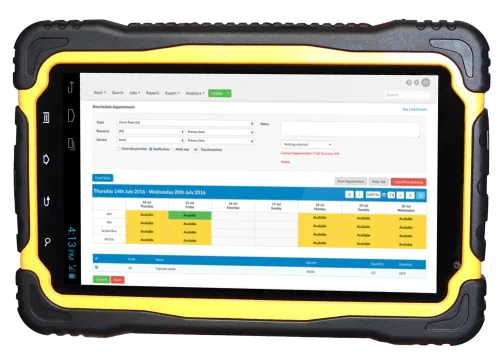 You have the peace of mind that all of the technology will work in harmony and that your mobile workers will be fully and expertly supported, meaning you get the best of starts with your new solution.
The Extend solution avoids the need for costly in-house mobile IT infrastructure and support desk expertise and ensures that your investment in Simpro is supported in a safe, professional and reliable manner by experts in the field.