simProspect
Stand out online. Get more leads. Respond faster.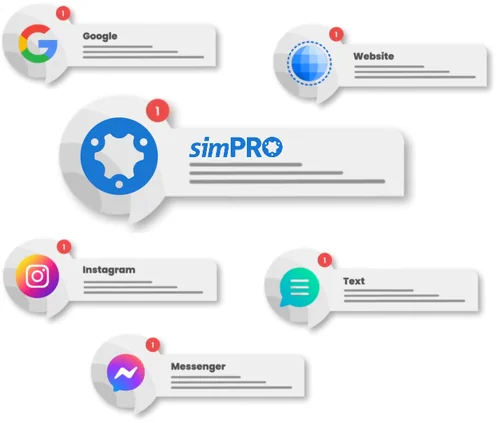 A centralised system for simplicity and speed
Streamline all your communications and automatically distribute leads between your staff.

Allow any of your staff to see step by step what stage a prospect is at, respond to them and move the process on to a sale.

Build and test lead processes to make a business that runs itself.
Your Marketing:
Automated
Centralised
Simplified
Simpro integrated
simProspect centralises your lead channels, standardises your lead response processes and automates your responses.
Your prospects and clients get a better, faster response.

You win more business with less effort and more clarity.

Your staff can more easily share the role of lead nurturing.
All supported by the guidance of trades specific marketing professionals with a proven track record of turning challenges into competitive advantages.
What Simpro does for your job management; simProspect does for your marketing
Imagine your world without Simpro, without any job management system, trying to manage jobs by phone, email and SMS. Is this imaginary world the real world of your marketing and lead processing?
Simpro pulls together and automates almost every element of your business after a prospect turns into a client but their journey before that can be chaotic for them and you.
Multiple channels, responded to only when you get a moment, no visibly on response times and a head full of things you know you should be doing but each is a separate platform and a separate specialism?
We know how this challenges growing trades companies and how daunting fixing it all can be. That's why we've developed trades specific expertise, systems and processes that do for marketing what Simpro does for job management; put it all in one system with defined processes so your team can handle it.
simProspect exists to solves your problems and enable your vision. Our team are dedicated, responsive and proactive in guiding you towards a systematised, expandable strategy that enables growth.
Automate and innovate
Automated responses, chases and reminders across multiple channels. We help set the process the way you want.

Automate your social media post across multiple channels..

A clear, visual representation of your sales funnel, conversion rate, cost per lead and lead source allows you to experiment with and improve your approach.

.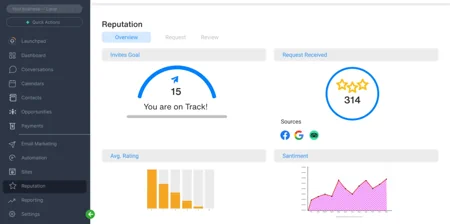 Your business better
Improve your online presence and market more often and more easily.

Respond to online reviews to improve your online reputation.

With regular coaching sessions you are guided through improving your lead process, gaining insight and taking your marketing to the next level.
More profit, lower costs
Manage and nurture incoming leads to close more business.

Fully replace many other marketing softwares with a single complete suite.

Reduce your and your staff cost spent dealing with leads..
Plans and Pricing
Go
£
99
00
monthly (for your whole organisation)
2 Way Text & Email conversation
GMB Messaging
Facebook Messenger
GMB Call Tracking
Missed Call Text Back
Text To Pay
Reviews and Reputation
Grow
£
199
00
monthly (for your whole organisation)
EVERYTHING IN GO +
Calendars and Booking​
Google & Outlook Integration
Sales Dashboard​
Lead Management
Full Marketing Suite​
SMS & Email Templates​
Website Forms​
Access to Video Training Portal​
9-5pm Partner Support​
Pro
EVERYTHING IN GROW +
Workflows
Triggers
Lead Source Integration
Job Management Software Integration
All Reporting
Quarterly Strategy Calls
25% Off Digital Marketing Campaigns
Dedicated Account Manager